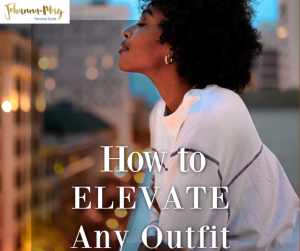 "Are you tired of feeling like your outfits lack that extra something special?
Do you want to take your style to the next level, but aren't sure where to start?
Here I am sharing some expert tips on how to elevate any outfit and add that wow factor that will turn heads and make you feel like a fashion icon."How to Elevate any Outfit"
I often say to my clients "It's better to be over-dressed than under-dressed"
Have you ever been caught under-dressed?
No matter how basic your outfit it can always be levelled up.
Here are thirteen ways how:
Add extra layers
Add a tailored item
Add structured items or accessories
Exchange a loose-fitting item with a more fitted one
Cover up skin
Add a closed toe shoe
A high heel
A pointy toe
Exchange coarse fabrics for smooth fabrics
Add shine or sheen (makeup, shoes, or garments)
Refined fabrics i.e., silk, wool, high quality cotton
Exchange loose weaves for fine
Up-level your Grooming i.e. pop into your hairdresser for a quick up-do or blow wave.
When you take control of your look everything will change.
My role is to help you get there, as an Image Consultant I can show you how to look and feel fabulous every day regardless of your age, size, budget or lifestyle.
You can book a time to chat so that we can discuss what Personal Styling service or Package suits your needs.
PM me, email me or book a time to chat.
Enjoy these tips on how to Up-level any outfit.
Yours in style,
Johanna-May xx