Is putting outfits together tough for you?
It's okay to say you don't know how to put outfits together… and….how confusing it is with all this pattern mixing and colour blocking plus colour mixing going on.
So, I'd like to help… as I hear this often enough I decided to write a blog to give you some guidance.
Maybe you don't have the confidence to try new looks, mixing colours or you just don't trust 'your eye' so I'd like to introduce you to the 60/30/10 Rule which will help you create fabulous outfits in colour and pattern.
What I mean by 60/30/10;
60% is the main colour in your outfit (this may also be your neutral) – it is the biggest part of your outfit.
30% is the secondary colour or neutral.  Perhaps it's your top or jacket.
10% is your accent colour, usually the colour in your shoes, handbag, scarf or accessories.
As above; 60% neutral (blush), 30% secondary (blue) 10% accessories (shoes/phone)
This theory can be done with all neutrals or all colours.
Use this rule for prints as well, just like this;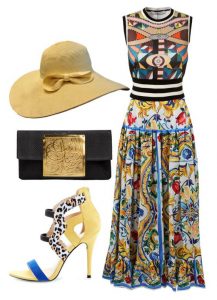 60% print, 30% gold, 10% black.
The proportions don't have to be exact but you can clearly see a dominant pattern in this outfit.
Want to try different proportions again?
Try the 80/20 rule instead;
This is an ideal way of wearing two colours.
My final tip; you ideally want to stay away from wearing even proportions of colours in an outfit!
If you found this interesting, I'd love to hear from you.  I put together individual Style files for ladies helping them with similar personalised tips that make shopping and dressing easy.
I hope you enjoyed this blog.
Until next time,
Johanna-May xx